According to your waste collection calendar, curbside recycling collection happens on the same day of the week, every two weeks. There is no limit on the number of items you can recycle, however, the items allowed within the bags are limited. Please pay attention to the contents allowed within each bag for curbside recycling:
BAG ONE = Paper
Newspapers
Flyers
Junk mail
Magazines
Paperbacks
Fine paper
Paper food & beverage cartons (i..e., egg cartons)
Boxboard (i.e., cereal boxes)
*Cardboard Note:
All corrugated cardboard must be flattened and should be tied securely. These items do not require to be bagged for curbside pickup.
BAG TWO: Plastics, Metal, & Carton Containers
ALL type #1 & #2 plastic food containers (i.e., plastic bottles, soap bottles, salad and fruit clam shell containers)
Pop cans
Milk cartons
Juice boxes
Metal cans
*Note:
You cannot recycle plastics labelled type #3 - #7, coffee cups, bottle caps, plastic bags, or the rings around plastic bottles in Thunder Bay.
These items must be separated from the recycling bag, and alternatively disposed of.
All plastics, metals, and cartons must be cleaned in order for recycling to be accepted.
---
How to Reduce Your Waste:
Refusing, reducing, and reusing items are excellent ways to reduce waste! Before you put something in the recycling or garbage, try to repair or reuse the item. Recycling, donating, and disposing of should be only considered as the last options.
Pro Tips:
Know what items should go into your recycling bins
Buy only what you need, use all that you buy
Buy in bulk
Try to eliminate excess packaging by buying low-waste
---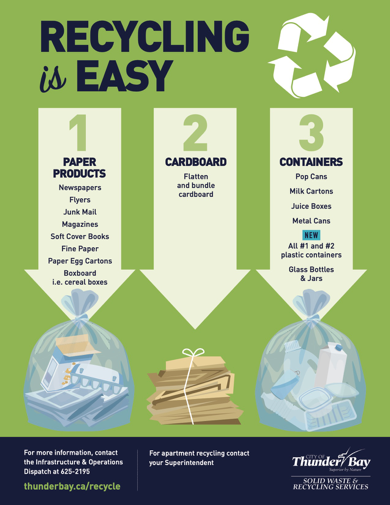 Recycling Presentations
EcoSuperior is happy to provide presentations to community groups, classrooms, apartment buildings and more to help everyone understand the ins and outs of recycling. Contact melissa@ecosuperior.org for more information and to set up a presentation!
Stay tuned for seasonal offerings including our very popular 'Naturally Gifted' low waste gift wrap guide with easy how-to instructions and more!