The City of Thunder Bay Water Bar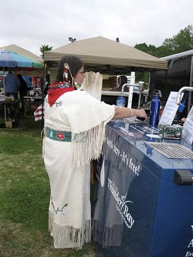 The City of Thunder Bay Water Bar was designed by the Environment Division to promote municipal water, as the preferred drinking water source at outdoor events in our community.
Our team at EcoSuperior coordinates the promotion, confirmation, and placement of the Water Bar at your event. The Water Bar units are available (*free of charge*) for a limited number of events each year. According to Provincial Drinking Water Regulations, the Water Bar must be connected and disinfected by certified personnel at each event.
A special event will be considered on a "first come, first serve" basis, and must meet the following conditions for the inclusion of the City of Thunder Bay Water Bar.
Conditions
A minimum of three weeks notice is required to reserve a unit, and a municipal water connection must be available and accessible
Due to the labour required for delivery, set-up, staffing, and removal, the use of the Water Bar is reserved for larger events with at least 500 participants
Due to staffing and weather, the event must be held between May 1st & September 30th
Water provided through the Water Bar is for drinking purposes only. Vendors are responsible for providing their own water or using a water supply source on-site for other event needs
No sale or distribution of bottled water by vendors or event organizers is permitted
The City of Thunder Bay Water Bar does not supply reusable water bottles or cups, event attendees are encouraged to bring reusable water bottles
For multi-day events, overnight security for the water bar is the responsibility of the organizers. EcoSuperior has the right to deny events the use of the water bar if there are concerns over possible damage
To request the Water Bar for your event, please call EcoSuperior at 807-624-2658, or email ashley@ecosuperior.org.