Active School Travel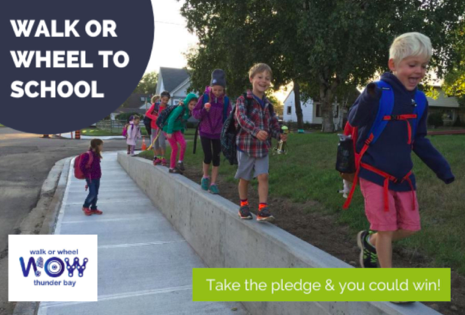 Click Here to Take the Pledge!
Walk or Wheel Thunder Bay
Walk or Wheel Thunder Bay (WOW TBay) is a program that encourages families to choose active transportation for the trip to and from school. Active transportation refers to any form of human-powered (non-motorized) travel such as walking, cycling, using a wheelchair, scooter, or skateboard. It is part of a province-wide Ontario Active School Travel project with the hope of helping families realize the benefits of active travel such as increasing physical activity, along with physical, mental and emotional health while also benefiting our environment.
WOW TBay is run by EcoSuperior Environmental Programs and the Thunder Bay District Health Unit. It is a partnership that includes staff from Lakehead Public Schools, Thunder Bay Catholic District School Board, Student Transportation Services of Thunder Bay, the City of Thunder Bay, and Thunder Bay Police Service.